SPECIFICATIONS:
Forward Speed: 35M/MIN
Cutting Width: 21CM
Feature: Height Adjustable Handles
Power Type: Electricity
Type: Robotic Mowers
Battery: 4.4Ah lithium battery
Smartphone WIFI APP Control: yes
Water-Proofed charger: yes
Auto Recharged: yes
schedule: yes
lcd: yes
Wire+pegs: 200m+200pcs
Longest Wire and Pegs: 600m+600pcs
Package Included:
For Our Robot which have oversea warehouses in Spain or Poland

1. If you are the buyer from EU Member 27 States , we will send your order fromSpain Or Poland warehouses. Shipping from Europe warehouses, is very fast, free shipping, and no customs problem.

Please feel free to buy .

2. If you are buyer from EU 27 countries, but you can not choose shipping from Spain Aliexpress system, pls don't worry, you can choose shipping from China. Actually we will send your order from our Sapin warehouse.
WIFI App Demo: http://youtu.be/3PUABpRCVVU
Demo:https://youtu.be/BLhsMFqVLb0
Battery Powered Electric Robot Lawn Mower with 4.4ah lithuium Battery with 200m wire+200pcs pegs+15pcs blade
Installation:
Subarea Settting:You can Select Subareas For The Mower To Cut.This Works Well For Larger Lawn.
You can start the robot mower by Manual or start on Schedule:
Newest !!! Robot lawn mower E1800/Robot Grass Cutter 6th Generation robot lawn mower automatic with WIFI App+Touch sensor+Rain sensor+Range which is mainly for the small garden.
Robot Lawn Mower E1800 Functions:
Use the gyroscope instead of compass
It is not easy to interuppted by electric/metal/other signal,etc.
1.select cutting height on LCD display directly, more intelligent:
2.languages for your option(12):
English,French,German,Danish,Swedish,Finnish,Italian,Norwegian,Spanish,Dutch,Russian,Polish.and we could add more...
3.WIFI app available for IOS and Android mobile phones, more convenient for setting and remote control:
4.Lift sensor
If the mower is lifted from Ground,it will stops working within 1 secondif the mower is lifted from Ground,it will stops working within 1 second
5.Tilt sensor
When the Mower is tiled over 30 degrees in any direction,it will stop working within 2 seconds
6.Range Function:
There are four options for the ranges, user can choose thedistance when the robot hit the virtual wire according the
condition of different lawns.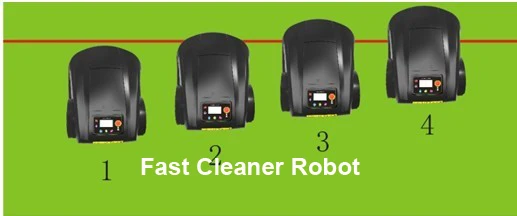 7.Bump sensor
It will activate when the mower strikes solid,fixed object when that object is at least 6cm in vertical height from the supporting surface of the mower,when the bump sensor activated,the mower will back up for working.
8.Rain sensor
There Are Two Rain Sensors loctated on the mower,the mower will go back to the charing sation automaticly when rainin
7.Mowing schedule (in any time)
8.Anti-theft (Password for protecting)
9.Cutting height easy adjustable (2.5-5.5cm)
10.Auto recharge 
11.Emergency stop switch
12.Pressure sensor 
13.Overload protect 
14.Waterproof 
15.LCD display 
16.Subarea setting
Technical information about E1800:
What is the packing box:
100-1pc Robot Lawn Mower
100-200m virutal wire
100-200pcs pegs
8-15pcs blades
4pcs stakes
1pc Water-proofed charger
10pcs wire connector
1pc Charging Sation
1pc English manual
​1pc WIFI Manual
1* (Robot Lawn Mower Grass)